Lawrence's work began with the death of his wife Gwen who he sadly lost to Lou Gehrig's disease (ALS). Using his skills as an artist and master woodworker he designed a memorial urn that would honor her memory and reflect her personality. Inspired by the fact that Gwen loved shoes and had a great sense of humor, Lawrence crafted a perfect copy of a Ferragamo shoe box in a rare African red wood and had her favorite shoes bronzed for the top.

At the end of the box is written her name, dates and her shoe size . . . 7AA. She would have loved it.

The pieces that Lawrence and his artist associates create, range from traditionally elegant to contemporary to humorous, depending on the personality involved. He gathers as much information about the life, character traits, interests, likes and dislikes of the person being honored before beginning the design process, then works closely with you to ensure that the final piece is a perfect expression of that person's or animal's personality and life.

There are just a few samples of his work on this web site, but just as each person or pet has their own spark, their own experiences and their own character, so will the art that honors them.

The possibilities are endless . . .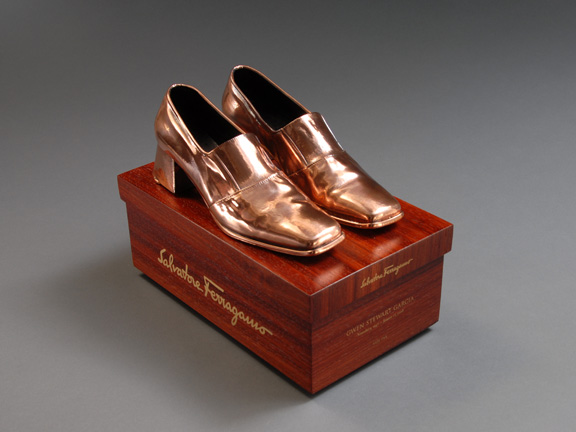 TYPES OF URNS

Urns are usually for the containment of a loved one's ashes. In most instances the cremation or funerary urn is buried or interred in a columbarium but commmorative decorative urns are for public display, either indoors or outdoors.

There are also urns described as keepsake urns, infant urns, child urns and pet urns.

Keepsake urns are small urns that contain a portion of a loved one's ashes, perhaps when the remainder have been scattered or when families who live far from one another wish to share the ashes of a loved one.

  Scattering vessels can also be designed - these are for use at the ceremonial scattering of ashes.

Bio-degradable urns are another option - these are environmentally-friendly urns made of bio-degradable materials that slowly dissolve in the earth, or water, until the remains merge with the environment. 

Commemorative sculptures do not necessarily contain any ashes (although they can) but are instead, a piece of art that is a visual reminder of the loved one that captures their essence.

In some instances people like to have their own urn designed before they actually need it so that the piece is designed in exactly the way they would like to be remembered and to save their loved ones from having to think about it when they are in the emotional situation of dealing with a loss. 

Whichever urn is appropriate for your needs, Lawrence will help you create the perfect piece of art to honor the one you have lost, with sympathy and respect.

Fees for urns can only be quoted after speaking with you and determining the scope of the work involved.