Losing a loved one is an event which unfortunately, all of us, at some time in our lives, will face. At this difficult time there are many decisions to be made and one of the most important is how you will honor that special person or animal companion.

Great comfort can be found through daily contact with art that contains an element of the relative, partner, friend or animal companion that you have lost. Lawrence can help to create a custom-designed urn or other piece of commemorative art in a way that will give you peace of mind at this sensitive time. His process will make things as easy for you as possible as he understands what you are going through and has a genuine love for people and his work in this field.

Lawrence will collaborate closely with you to create an urn or scupture that sensitively captures and honors the essence and personality of your loved one. Working with wood, metal, glass, ceramics or found objects, each cremation urn, commemorative urn, keepsake urn or commemorative sculpture will be as individual as the loved one or pet being celebrated.

Not all urns need to be traditional — requests have ranged from a life-sized portrait containing an urn, to the conversion and display of a treasured Harley Davidson gas tank. Everything is possible.

Please click on the Portfolio links below for a few examples but also don't hesitate to call to talk about your personal situation - you will get a sympathetic ear and the beginning of a beautiful memorial to your unique loved one.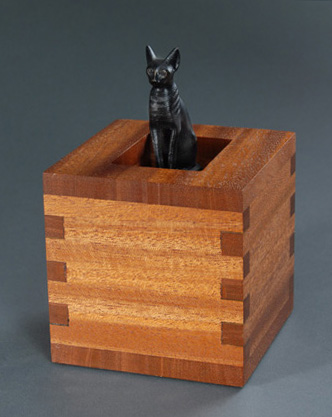 Custom designed and lovingly crafted commemorative sculptures and urns.